Did you know that, on average, a local brand in Melbourne gets up to 1000 searches and 400 Google Maps views each month? This is a huge opportunity for businesses to get in front of their customers! What if we told you that you could achieve this too? All you need to do is get your brand website and information on the first page of Google. And one of the easiest ways to do that is by claiming your 'Google My Business' for SEO.
According to a study by BrightLocal, a typical local brand with GMB receives up to 57 actions a month, including website clicks, phone calls, direction requests, etc. So by setting up your Google My Business account, you really do open your brand up to a broader audience and more opportunities, receive Google My Business reviews and respond to reviews to boost your credibility.
Apart from discoverability, a Google My Business account helps to keep your customers informed. When they search for your business on Google Search and Maps, customers get the accurate information directly from the source, rather than find customer reviews on Yelp, TripAdvisor, and other such websites.
Misinformation can turn away your potential customers and even lead existing customers to have negative experiences with businesses. A Google account for businesses places your own brand on page one, above every other information, allowing customers to engage with you directly rather than being misled by other information available about you on the Internet.
However, the process of setting up your account on Google My Business can be tricky. When you are a local business, a restaurant, or a service business, you want to leverage GMB through a Google Account. We have simplified this process so you too can reap the benefits of a GMB.
Here's how you can set up your Google My Business and get on page one of the search results.
How do I get my business listed on Google?
We've tried to make the process straightforward, so all you have to do is follow the steps listed below, use the verification option, and in no time, you will have your business listed. Let's begin.
Setting up a Google My Business account
The first step is to ensure you have a Business Profile on Google. If you already have a business account, but if you don't, here's how you can create one:
Step 1: Go to accounts.google.com/signin
Step 2: Click on 'Create Account'
Step 3: In the drop-down menu that appears, choose 'To manage my business'
Step 4: Add the necessary information, and your account will be ready
Next, you need to create a Business Profile for your GMB listing—both these profiles exist separately, and you cannot control the information on your profile until you claim it through GMB. So let's create the profile first:
Step 1: Go to google.com/maps
Step 2: Search for your business name on the Google Search console
Step 3: If your business name appears in the drop-down, your profile already exists
Step 4: However, if it doesn't show up, click on the 'Add a missing place' button
Step 5: Enter all the information listed there, like your address, email, contact information, phone number, etc. and click on 'Send'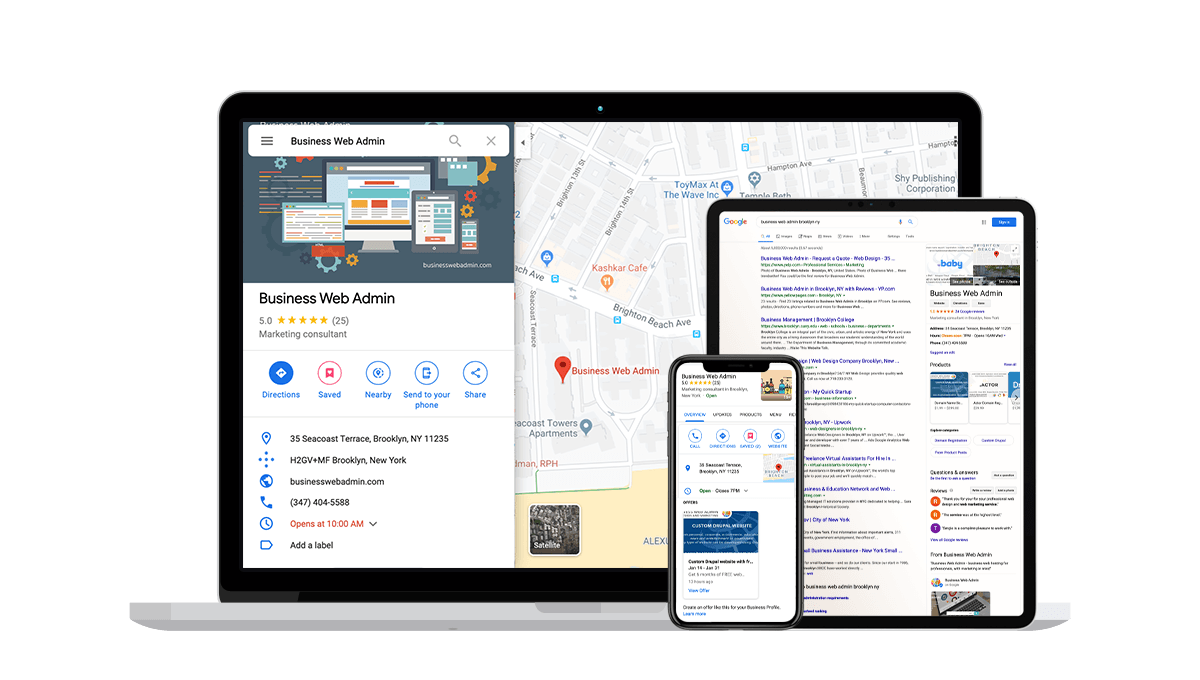 Setting up a GMB listing
Now comes the actual step of setting up your GMB profile. For this, follow these steps:
Step 1: Go to google.com/business
Step 2: Select 'Manage now'
Step 3: Provide the basic information like brand name, address, phone number and website
Step 4: Make sure you upload the cover photo too
Step 5: Once that is done, you'll see a dashboard on which you can add even more information about your brand, which will help you optimise your GMB for better results
That's it! Your Google My Business is ready. Key tip: adding your website address improves your company SEO.
Claiming your business profile
The next step is to claim your listing, where all the pieces come together. In this step, you are essentially connecting your Google My Business to your Business Profile on Search and Maps, and there are two ways of doing so.
Claim request method 1:
Search for your brand name and location on Google. If your profile appears on the right, find the 'Own this Business' option
You'll be taken to another window that says 'Manage this business so you can reply to reviews, update info, and more'
Click on 'Manage now' button and follow the prompts to claim your business
Claim request method 2:
Go to google.com/maps
Search for your brand name
Click on your Business Profile
Choose 'Claim this business'
Lastly, click on 'Manage now' and follow the prompts to claim your brand

Verifying your Google My Business listing
Lastly, all you have to do is verify your business ownership. The good news is that Google has a simple verification process.
If you have created the Business Profile yourself and logged in to your GMB account, you might automatically get validated on the spot. However, if you aren't the one who has created the Business Profile, you will be sent a verification code to your Google Business dashboard. You may also receive the verification code via email address, regular mail, or text, depending on the circumstances of your account and industry requirements.
How to verify your Google Business listing without a postcard
Verifying without a postcard can be tedious, but do not worry. Here are the steps you need to follow:
Step 1: Log into your Google My Business
Step 2: Select 'Pending Verification' and then click on 'I don't have a code'
Step 3: Review the verification options
Step 4: Try verifying your profile through the search console
Step 5: If that doesn't work, feel free to contact the Google Community
Step 6: Submit a ticket if even that doesn't work and let Google experts help you
FAQs
How do I contact Google My Business Australia?
To contact Google My Business Australia, visit the link: support.google.com/business/gethelp.
How much does a GMB listing cost?
Fortunately, this listing is completely free for business owners. All you have to do is invest some time and all of your businesses will be good to go.
Can I merge Business listings on Google?
If there are duplicate listings for your brand, you need to merge the duplicate listings. To do these, you need to first claim the duplicate listings, and then start merging them. To merge, ensure that both the original listing and the duplicates share the same address. Then you can request to merge the two using this form: support.google.com/business/gethelp
What if my business has multiple locations?
To manage multiple brand locations, you need to use bulk location management or bulk verification, allowing you to manage multiple locations simultaneously.
How can you improve your Google Listing?
Here are some tips to improve your Google Listing:
Have your business photos uploaded
List your business address and location details
Be reply to any enquiry message
Set your business categories
Have your customer add a review
Set the service area
List your services and products
Why did Google suspend my GMB listing?
If your listing is suspended, it is likely because Google is responding to either red flags on your account, suspicious activity, or suspected policy violations. Google does not disclose the actual reasons, but here are the common ones that may get your account suspended:
Change in the business information listed on your account
Your brand belongs to a high-risk industry
Your address violates the address policy
To get your suspension revoked, you may need to provide Google with proof that your brand is legitimate. You may be asked for documents like state business license, professional license, proof of occupation location, photos of the office location, tax papers, etc.
While setting up Google My Business is easy with these steps, it can still be time consuming or confusing. So why not let the professionals handle it? There are many elements that need to be done such as business description, business category, business location, contact info and website URL. A professional digital and social media marketing company can give you the right assistance.
Reach out to us, and we will help you set up the account in no time; and we can also help you further improve your local SEO, so you get the best reach for your brand.
Reference:
https://www.brightlocal.com/research/google-my-business-insights-study/
https://support.google.com/business/gethelp