If you are building a website, you need the right theme to command it. It needs to be intuitive, aesthetically pleasing, and easy to navigate. Plus, it should reflect your brand ideals and be in-line with your products and services. However, while choosing the WordPress theme for your website, many people overlook one important aspect: search engine optimisation.
Does SEO WordPress Theme Affect SEO?
Not many people know that the SEO friendly WordPress theme can influence SEO and SERP rankings and help your digital marketing strategy. Just like the way you write your site headings or attribute alt tags to your images, the SEO optimised WordPress theme also plays a significant role in helping boost your website's rankings.
This is the reason why you need to choose the right SEO optimised WordPress theme for your website in 2021. But what makes a good SEO friendly theme? Let's find out.
What is an SEO Friendly Theme?
WordPress is already one of the most SEO friendly website platforms out there, but some themes only improve its effectiveness. These SEO optimised WordPress themes are designed to help you grow your website on the search engines, and they do so in various ways.
To begin with, the best SEO friendly WordPress themes are coded with relevant SEO friendly language that is compatible with all popular browsers and search engines while having valid HTML and CSS protocols.
The next aspect is speed and responsiveness since all search engines favour faster websites over slower ones. An SEO friendly theme makes your website load faster and has a better response to the user's inputs, decreasing the website's bounce rate and improving your SEO ranking. Your users will love using your website if it is fully responsive and retina ready. Being fully responsive and retina ready thus helps improve your click-through rates and decrease the bounce rates.
The way your website's pages are linked together is another important aspect of an SEO friendly WordPress theme. To be SEO friendly, the theme has to offer website architecture features like well-structured navigation, internal links, indexes, sitemaps, etc., that work cohesively with each other. A well-structured website makes it easier for search engine bots to crawl your site and index your pages, which improves your chances of ranking higher in the search results.
Lastly, a good WordPress theme lets you integrate your social media on the website easily. Social media is an important channel for acquiring site traffic, and if you link your social media to your site, it improves your site traffic and, as a result, SEO rankings. The same allows your readers to share your content with their social networks, which brings in backlinks and brand awareness for your website.
Best SEO Friendly WordPress Themes
Now that you know what an SEO friendly WordPress theme is, it's time to choose the right theme for your website. Whether you are looking for a multipurpose SEO WordPress theme for your website, a focussed theme for your blog, or something unique that fits your business goals, you are sure to find a suitable WordPress theme for your website here.
Here are some SEO optimized WordPress themes you can choose from for your website.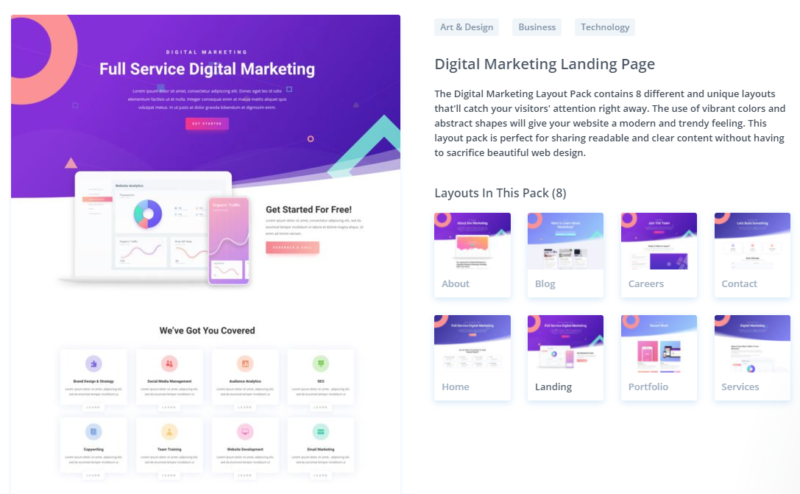 1. Divi
Divi is one of the best selling SEO friendly WordPress themes that is designed with SEO in mind. It is packed with features and offers you the best chances of being found in search engines. Plus, it gets updated constantly by the developers, so your website SEO WordPress theme will always be in vogue with the latest SEO trends.
Divi is a multipurpose WordPress theme that comes with a wide selection of pre-built website packs, covering almost every type of website you can think of. There are theme templates for everything, from blogs to sales and marketing to online shopping. All you have to do is choose the template that fits your goals and import it into your site with just a few clicks.
The best thing about Divi is its customizability. You can customise the theme to make it look and feel unique for your brand using the intuitive visual interface. You can even create your own custom page designs from scratch and insert customisable modules and elements into your content to make it even better.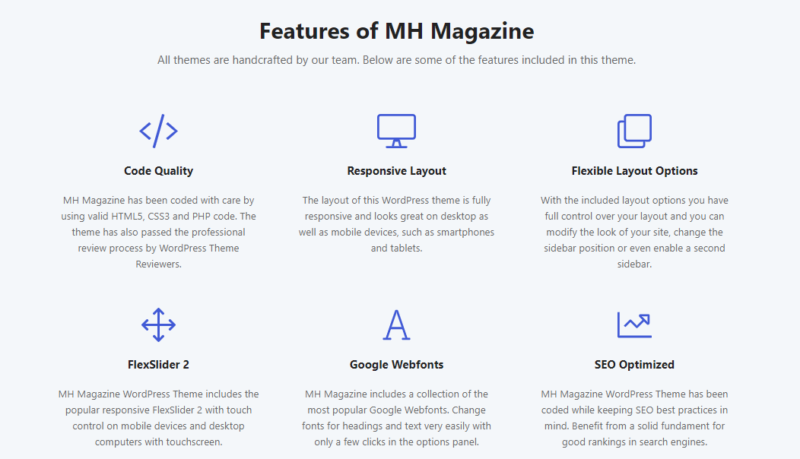 2. MH Magazine
If you plan to publish a lot of content on your site, then you need to look no further than MH Magazine. It is one of the best SEO optimized WordPress themes for websites with rich content output. This SEO WordPress theme lets you create professional and organised layouts for your website that are intuitive to use and interact with.
What makes this SEO WordPress theme stand out from the rest is that it is finely tuned for SEO. The developers optimised this theme in two primary ways. First, the SEO theme is well structured, making it easy for your target audience to find your content on the search engines. Second, the website has various intuitive design and navigational features, so your readers can easily use the website. Both these factors come together to make this website quite beneficial for your SEO rankings.
The theme is also the perfect choice if you want to monetise your site with adverts as it provides various ad locations where you can display adverts. It also has an option that allows you to display ads within your content and archives too.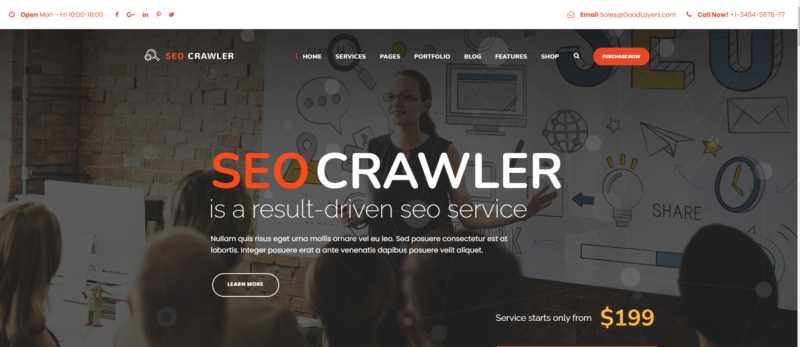 3. SEO Crawler
If you are looking for a professional design for your wordpress theme, you can consider SEO Crawler. The SEO theme offers three fully-featured website demos which you can choose from. Once you import your template, you can then add your own content to the pre-built templates.
However, if you want to give your website a unique look, you can even use the GoodLayers page builder tool to customise the demo content. The GoodLayers tool also allows you to create custom designs for your content quickly. It includes various modules and elements that you can insert into your design and customise to fit your website's overall theme.
What makes this theme special is that it has various other features that help you create a custom website. It includes 19 different header designs, a detailed set of theme settings, and nine unique portfolio layouts. It even allows Google Fonts integration. Essentially, you can create a fully functioning website with a unique look without knowing anything about coding.
As for being SEO friendly, the website is relatively quick to load and offers excellent responsiveness levels. It is also entirely compatible with mobile and tablet devices. Plus, the theme is compatible with the Yoast SEO plugin, so you can thoroughly analyse your website and improve its ranking with the plugin.
4. The Gem
Another popular theme designed with SEO in mind is The Gem—it has everything your website needs to rank higher in the search engines. The theme is designed with a special focus on fast loading times, mobile-friendliness, and secure code, which are the foundations of an SEO friendly website. Plus, the theme allows you to integrate all leading search engine optimisation plugins and tools into your website.
What makes this theme one of the most popular premium SEO optimised WordPress themes is that it does not sacrifice design for SEO; it is one of the most competitive themes in the world. It has over 100 demo pages that you can choose from and import into your website with a few clicks. Whether you want to set up an e-commerce site, blog, or business landing page, The Gem can help you do that.
Apart from the various customisation options via the theme options panel and settings, the website also lets you integrate various other personalisation plugins like Visual Composer into your website, allowing you to create a unique look for your website. This is the perfect theme for you if you are looking for a multipurpose theme with high customizability and SEO friendly features.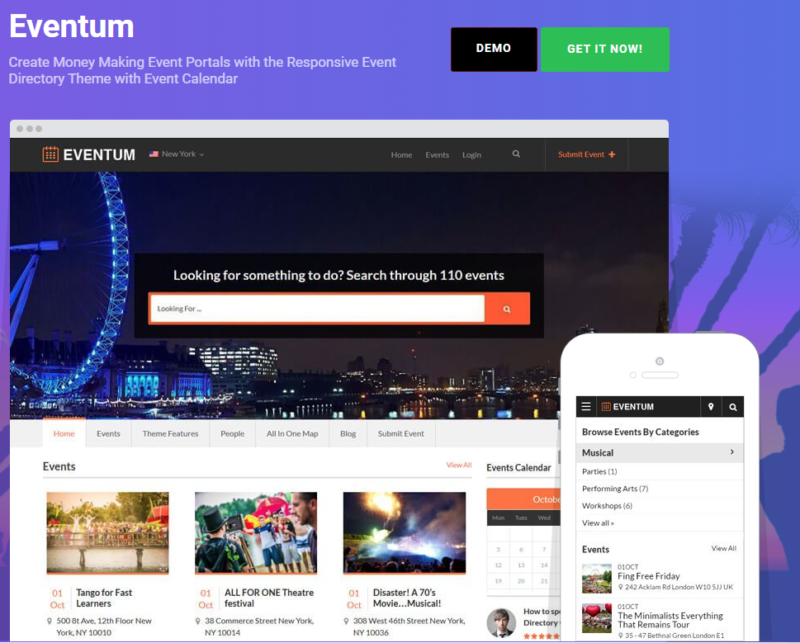 5. Eventum
If you belong to the event and conference industry, look no further than Eventum for creating your website. The theme comes with eight homepage layouts you can choose from. These layouts are designed keeping the event industry in mind, and they will work for you whether you are building a site to promote a conference, an event, or even a cultural festival—it is quite a versatile theme.
The theme's structure and all the templates are also optimised for search engines with a focus to increase your content's visibility on the search results page. While you still have to focus on optimising your content for SEO, you don't have to worry about the website layout affecting your SEO rankings.
This WordPress theme comes with a host of unique features that are developed for the event industry. For example, it has countdown timers that you can utilise to build anticipation for an upcoming event. It also allows you to publish event schedules for your attendees and stakeholders.
One of the best features of this theme is that it makes it quite easy to draw registrations and sell tickets. It has various ticket options that you can choose from, along with pricing tables for easier purchasing experience. You can even integrate the Event Espresso plugin into this theme, which takes your registration and ticketing process to the next level.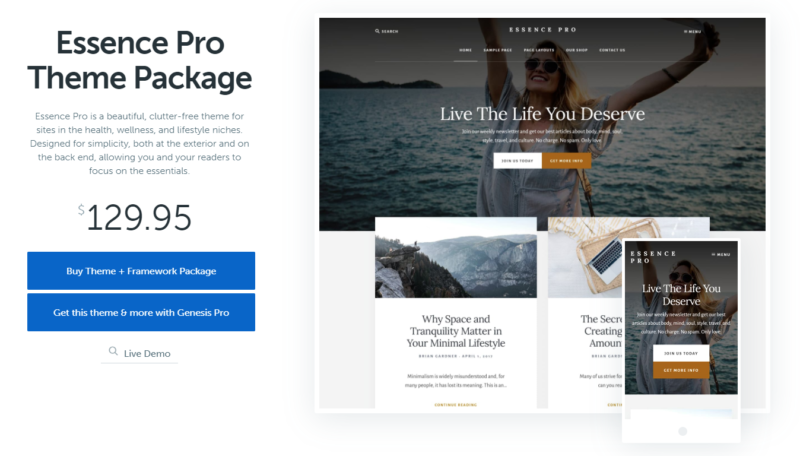 6. Essence Pro
Events need one kind of website, and lifestyle needs something entirely different. If you are building a website for your health, wellness, and lifestyle brand, you need to choose Essense Pro. The theme's homepage layout offers a lot of whitespaces that you can use to display various high-quality images, which are essential for a lifestyle website. The layout is also quite effective for promoting blog posts with the featured blog element. The layout also displays the posts with images to give them a more visual appeal, improving the click-through rate, which helps SEO.
This WordPress theme is incredibly excellent for lifestyle bloggers as it comes with an unmissable and prominent email opt-in form that you can use to gain more subscribers to your website.
StudioPress, the developers of this theme, built this time to take full advantage of the WordPress editor. This allows you to use the block elements to add anything from layouts to custom elements that direct to pages and posts. It offers excellent levels of customisation for a lifestyle website or blog. However, this theme's only downside is that it does not come with a drag and drop page builder plugin, making it unsuitable for other kinds of heavier websites.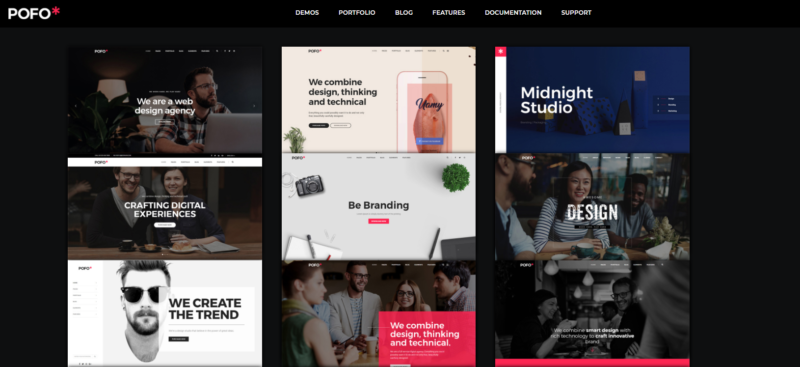 7. Pofo
If you want your website to be versatile while having a stunning design, then Pofo is your best choice for an SEO optimized WordPress theme. It allows you to build almost any kind of website with its 210 pre-built demo page that you can import into your website easily. It is quite versatile due to this vast array of design theme options panels covering everything from blogs, portfolios, agencies, e-commerce stores, and much more.
This theme works for all kinds of websites, whether creative or corporate, but if you still can't find something that matches your vision, you'd be happy to know that it is pretty customisable, too. It includes the drag and drop page builder tool, and it can integrate the WPBakery Page Builder plugin, allowing you to customise the pre-build demo templates to your liking. And it is quite easy to customise, too, using a front-end drag and drop user interface.
The theme is designed with customizability and SEO friendly features in mind, so you can take full advantage of the WordPress Customizer interface to make your website unique. You can adjust global settings, fonts, colours, layouts, and much more with ease. The theme also includes excellent social media integration and various sidebars and widgets that make the website more intuitive for your users. And lastly, it works with all the best SEO plugins available for WordPress Websites.
Choosing the right theme for your website
Choosing the right theme is the first step in having good SERP ratings and SEO ranking. Sure, you will need to optimise your content for SEO while practising the right digital marketing strategies, but those efforts would be fruitless if you don't choose the right theme that allows you to practise good SEO efforts. So, select the theme that works best for you and begin building your site from there. Remember, if your SEO foundation is not proper, even the best long-tail keywords will not help your website rank.
You need to work with the best SEO service providers to ensure that your website is SEO optimised. The best SEO service providers offer you end-to-end SEO optimisation, from choosing the right theme to producing SEO content for your website.